I realized quite few things about myself which weren't very obvious and easy to figure out
If I am not on fire, I lose myself
I become just a mere observer, I lose my confidence. As I know that I am not feeling quite like myself, I don't even feel like trying things. My fire is dim.
My body, who I am and what I am born with, it all BURNS by itself perfectly well. If I am set on fire by something, "my self" takes over and EVERYTHING IS PERFECT OR DESTROYED AND REBUILT
FUCJKASKPDKJADFlkgsdkt;jswfdlkkgjslf
I CANT WRITE, i have like 5 deep theories and thoughts about myself. YET IF I CHOOSE TO WRITE ABOUT ONE, THE OTHERS ILL FORGET AND IT WONT BE THE SAME
My body can do everything , my self is a fucking destroyer. BUT MY MIND MY SELF WHO WAS FORMED BY MY LIFE AND EXPERIENCES, IS A FUCKING TERRIBLE PERSON. SUCH A FUCKING LIBERAL PIECE OF SHIT NOOB. HOLY CRAP
CAN YOU GET THAT DICK OUT OF YOUR ASS PLEASE? SOOO SLOW
SERIOUSLY ARE YOU EVEN TRYING? ALL YOU DO IS DAMAGE CONTROL AND MAKE YOURSELF FEEL SOMEWHAT GOOD, LOL. ARE YOU RETARDED? WTF WILL THAT LEAD TO, DID YOU EVEN THINK ABOUT IT? YEAH YOU DID, AND ITS ALL FUCKING DELUSIONS LOL! YOPU STUPID FUCK, INSTEAD OF SPENDING TIME ON BULLSHIT AND LOOKING FOR EXCUSES TO DIVERT MY OWN ATTENTION, MAYBE PAY ATTENTION TO MYSELF PLEASE?
YOU HAVENT CHANGED A BIT SINCE YOU WERE A KID WHEN IT COMES TO THAT
giving up all the time, excuses excuses excuses, loving the praise and the moment it stopped, you stoped caring too, you loved the attention
hated everyone who got more than you, became a recluse
fucking LOL, then you learnt to take pride in your fucking weakness, instead of aknowledging it as a weakness and moving on. Do you get off on being @ the bottom in life? Do you get off on putting yourself down? WHATS WRONG WITH YOU, DONT YOU WANT TO BURN?
ITS NOT EVEN HARD, AND YOU KNOW IT. ITS SCARY FOR THAT PUSSIFIED PIECE OF SHIT BRAINS OF YOURS, BUT ITS NOT EVEN HARD. AND IT IS THE BEST THING THERE IS IN LIFE WTFSKDJsl;kdfjgdskwerJK]2e;k;; wqe',
accepting any more of this, is same as accepting death
as its the path it will lead you to. There is no happy nerdy life for you, thats not who you are
you know so yourself
Fast lane and fire, or no joy.
So everything falls into place as long as I can set myself on fire.
How do I do that
Lets remember some things of me facing myself
before i do. I realize now that everything i am now, is because i have been clipped FROM ALL OF WHO I AM SINCE FOREVER. EVERYTHING I AM, WAS THE "WRONG" THING AND EVERYBODY SAID THAT, EVERYBODY THOUGHT THAT. Except some exceptions, everything i wanted was far away and done by somebody else, and everybody else could get away with what i couldnt. Voices ringing in my head with morals and bullshit about everything, all of my definitions and knowledge was COMPLETELY WARPED. You are a bad boy if you do things like this, or things like that etc etc. And I was obedient, my "persona" was that of a nice smart kid, that is the only thing which got me praise, if I was smarter or worked harder, even though I didnt really care about that. Eventually I gave up that persona as well, when I failed some tests and realized that i am not smart at all, at least not conventionally, everything seemed pointless and hopeless. People who generaly dont care about things, could muster up some strength and study last days and ace the tests, why should i study all the time if that is possible, if its possible for them, its only fair it should be for me too. I am not going to be inferior
that is my saving grace. The voice from within telling me that I AM NOT INFERIOR
While my actions and thoughts all say to me that I AM
I became a mirror to all the people who kept me down all my life
IT WAS SO DECEITFUL I DECEIVED MYSELF FOR SCUH A LONG TIME
WAS TOO BUSY DOING OTHER THINGS, THE FUCKING POISON OF BULLSHIT FROM ALL THE NORMAL PIECESO F SHIT ATE MY INSIDES OUT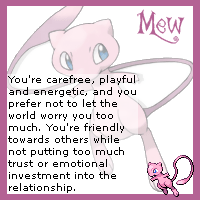 Found an old pokemon test on my kiddy blog, did it again. Only thing I'd say about the end is that, I WISH I COULD PUT TRUST AND EMOTIONAL INVESTMENT INTO PEOPLE. Its just hard, cuz nobody wants any of that or doesn't act in a way to receive it.
=============================================================
every waking moment of my day, I feel like I owe it to somebody or someTHING or even to myself
It makes me suffocate due to lack of air due to all this self made pressure. I became better at handliing it, but it never goes away. LETS FUCKING PULL THE ROOTS BITCHES
I AM TIRED OF BEING LIKE THIS. At every point in my life when I GOT SICK AND TIRED OF SUCKING , I HAD TO HIT MYSELF ON THE HEAD, AND PUSH THROUGH IN PAIN SCREAMING
IT HURTS SO MUCH TO GO AGAINST THE WAY YOU ARE "RIGHT NOW" but the moment you realize that, that is the right decision , its easier to commit to the pain
I once had to memorize 3 pages of a book, word to word for Lithuanian class test. ITS RETARDED, AND IT WAS SO GOOFY TOO
OH GOD I HAD TO SLAP MYSELF 100 TIMES TO MAKE MYSELF DO IT
BUT I FELT PROUD TO HAVE DONE THAT, it was weird to receive a good grade in Lithuania while everybody else failed ( CUZ WHO THE FUCK WANTS TO LEARN 3 PAGES IN MEMORY JUST FOR ONE TEST, ITS USELSS WTFSDKFJsKDF )
I just erally badly needed that grade to pass the class.
I always look back onto 4th grade "track race" we had in school. there were 30 boys and we had to run around the school grounds, back then I always considered myself slow and whenever we were playing tag or what not, I never was as fast as the fastest guys, but wasnt quite the slowest as well ( fat kids were below me )
At the beginning of the race I was like 26-27 , seeing all the proper guys speed away and me being stuck with all the losers , made an inner voice in me tell me that AND MY BODY BELIEVED IT, TO JUST GIVE IT MY ALL. Before that, I already felt like I was "trying", it hurt, and i was running as fast as I could. BUT WHEN I STARTED TO REALLY GIVE IT ALL, I COULDNT FEEL MYSELF of HOW MUCH IT HURT, i finished 4th I think. I dont recall. It wasnt a long track race, if it was longer I could catch up to more people. When I was pushing myself, near the end of the race my weakness came back again, it wanted me to slow down. Just facing myself like this, it was really eye opening on what a person can actually do, and what it actually means to try
It felt good and gave me new confidence in myself
Its too easy to look down on yourself and accept being a loser. If you are smart, you will come up with excelent excuses which dont even sound like excuses and many reasons on why being a loser is "FINE" and tell that to everybody and to yourself, and this way you end up having an easy life , not being too judged about you being a loser, yet feeling like one by yourself. Because fooling yourself is pointless, it all comes down to haunt you eventually.
sigh. I need to take heavy measures against myself. Rock my world and reinstall everything I have on my mind
Rekindle my fires instead of putting them down
everything is so fucking annoying, and everybody can go fuck themselves
pieces of cancerous shit. If you suck dick yourself, STOP MAKING ME SUCK ONE TOO
Of course I cant blame them, I dont really care. ITS JUST ANNOYING, FUCK FUCK FUCK YOUUUUUUUUUUUUUUUUUUUUUUUUUUUUUUUUUUUUUUUUUUUUUUUUUUUUU
I actually believed bullshit for so long, RIDICULOUS
When it comes to dealing with people. If anybody wants me to do anything for them, they better be doing it with me together, or helping in some other way
or else i feel complete disconnect
in general seems like i get off on attention. But instead of becoming someone worthwhile of attention, i fell into a hole and adopted being "weakish" and act like a baby basically, to attract attention
WTF SO FUCKIGN GAY HOLY FUCK
My toxicity, is my cry for attention. So gay, but that is me. IT may not just be attention, I guess craving to let go of my stress as well, thought its really not that helpful.
No reason to deny that. I am gay like that, right now
Things which throughout my whole lifetime were the ones to stand out for me were
Attention
Praise
............
thats about it I GUESS. Sure I am more of a person than that, much more. But these 2 gay ass things, are the most powerful things in me thats for sure
Its not the whory attention which you can imagine if you read it, its different, but in the end its still attention
All of my personality and feelings come out of these 2 basic things, its quite pathetic, but no reason to hide it. Might as well accept who I am, with all the ugly in it
I can make it work, and turn it into something beautiful instead
BECAUSEE FUCK YOU ALL , OHHH HFUCK YOU ALL SO MUCH
Random praise, doesnt fucking matter
Random attention is neat, but doesnt matter much too
its the attention to detail, attention to who I really am what matters
Attention to what I am doing, to wanting to help me, ( NOT DO THINGS FOR ME, JUST ASSIST ME )
Attention to actual me, is what matters
Praise, for my efforts, appreciation of my efforts and of who I am. Reassurement of my ways
Like a dog. If I feel good and taken care of, I'll be more motivated to do the same thing... lol
I guess thats why I looked and believed in relationships so much, because I thought that they would give these feelings to me.
And maybe in some relationships it does happen, but its irrelevant because it is not like that right now
and I dont need a relationship to give me all of this exactly
I want relationships to become "free" in my head , heart and my life. I dont want them to be ANYTHING, other then what they are. Just 2 people being together and being a team
while everything else comes from somewhere else, from my own individual effort
stop all this naive stuff of hoping for easy ways, hoping for nice thigns to happen, hoping hoping hoping hoping
FUCK YOU
sigh
if i was in games same as i am in my own life, i would be a fucking NOOB
thats why games were always so great, it made me focused, it made me try, and i would evolve
i always had to face my weaknesses ( naivety, hope, trying to stand out, too stubborn, too aggressive, no motivation to follow the rules etc. ) in games, and always had to overcome them to improve. And when I did, I felt SOO FUCKING FREE. It was great to feel victorious over your own weaknesses
but i never fixed them in my real life, i should do that
sigh i forgot half of my thoughts, this will do
==
7:31 PM (0 minutes ago)